All Inclusive Yoga retreat Package
5 Nights Yoga Retreat Package (Mon - Sat)
Revitalise and Restore Your Body Mind and Soul
Immerse yourself in a place of serenity and beauty where you will wake every morning to the sound of crashing waves and a breathtaking ocean view.
Our all inclusive Yoga Packages have been specially designed to replenish, revive and renew your entire being, with daily morning and sunset yoga classes in our stunning top floor Yoga Studio, which offers panoramic views of the Emerald Coastline as far as the eye can see. After your yoga classes, take a short walk down the hill where you can experience some of the best waves in the area or a refreshing soak in the rock pools.
Enjoy delicious local and international food at our restaurant with the best sunset in town. Pamper yourself with one of our special wellness treatments and a relaxing trip to the local hot springs. Meet and converse with like minded travelers and your team of international yoga teachers who are passionate about sharing their love and knowledge of Yoga with you.
5 Nights Yoga Retreat Package
Why this Deal is Perfect for you!
6 days & 5 nights, accommodation in our stunning beachfront resort
12 yoga classes from our extensive class schedule in our top floor oceanfront Yoga Studio
All meals & drinks (non alcoholic) includded from our special menu. Vegetarian and Vegan options available.
Welcome Cocktail
Magnific Rock reusable water bottle
Your choice of one of our wellness treatments; massage, facial, mani-pedi, reiki, or cupping
A trip to the Natural tide pools at Guasacate Beach
24 hour pool access
High speed internet.
Co-working area
Help with flight, travel and transportation.
Save up to 25% with this deal
.Private Studio for 1 Person $1246 pp
.Twin Share Studio 2 People $968 pp
.3 Share Apartment $875 pp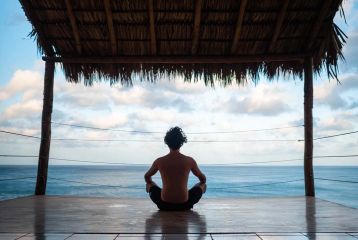 Can I Stay More Than 5 Days?
Yes! Price Per Person for Extra Nights All meals & drinks & Yoga Class
includded.
· Private Studio for 1 Person: $178/day
· Twin Share Studio for 2 People: $135 pp/day
· 3 Share Apartment: $118 pp/day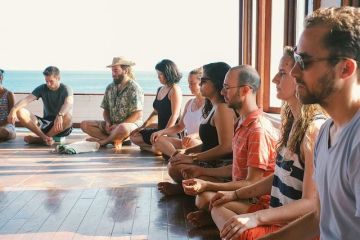 How Much Money Will I Save?
Our packages are very special prices to make your vacation everything you dreamed…here are the valued prices if you purchased everything included as seperate items.
· Private Studio for 1 Person: $1,550
· Twin Share Studio for 2 People: $1,300
· 3 Share Apartment:: $1,150